Best Times to Visit India
A Rough Guide to Climate and Festival Seasons
It's impossible to picture India without the country's iconic annual festivals. There are many colorful art and dance festivals across the land. Whatever the festival, Indians are very inclusive and will welcome you to join them and be a part of their festivities.
---
When to Go
Most of the spectacular festivals are held during the cooler winter months, making it convenient for visitors to join in the colorful celebrations while enjoying a sightseeing trip, all-in-one. Many festival dates are determined by lunar calendar; hence the dates vary from year to year.
The best time to visit India is between October and March when the monsoon rains have ceased, and the country is dry and less hot. April is hot, while May and June are scorching. If you are willing stand the heat for a cheaper trip, then these would be the best times. September and April are the shoulder season. India is a large country with Himalayan foothills to the north, lush green lands in the south, and rivers and deserts in between. The climate does vary considerably by regions.
---
India's Top 3 Festivals
Religion and culture are at the center of people's lives in India, and each of the country's festivals offers a different experience, all well worth attending. However, depending on your interests and concerns about comfort it's likely that some will appeal more than others.
Here are the top 3 festivals and events in India to consider, listed in order of when they occur.
---
Holi Festival (February – March)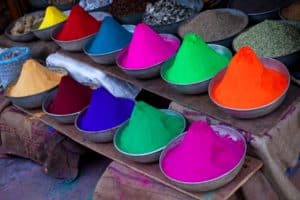 Coming in at 3rd place, the Holi festival is one of the major festivals of India that is the most vibrant of all! North India offers the ultimate experience that cannot be matched elsewhere. This festival projects the bold, colorful image of India most often seen in ad campaigns and media outlets. The vibrancy of colors is something that brings in a lot of positivity in our lives and Holi being the festival of colors is actually a day worth rejoicing.
It is also sometimes called as the "festival of love" as on this day people unite together forgetting all resentments and all types of bad feeling towards each other. People come together from all walks of life to sing, dance and splash their friends and family with colored powder and water.
The festival marks the arrival of spring, and the triumph of good over evil. The tradition of throwing colored powder and water is believed to originated from the mythological love story of Radha and Krishna. Krishna, the Hindu god depicted with dark blue skin, is believed to have complained to his mother about Radha's fair complexion. To ease her son's sadness, his mother suggests Radha's skin be smeared. It's believed that this is where the custom of smearing loved ones with color during Holi came from. See our Holi Festival Tour details
---
Pushkar Cattle Fair (October – November)
Second place goes to an extraordinary event called Pushkar Cattle Fair which is an annual multi-day livestock and cultural fair held around late October to early November. This fair is one of India's most highly-rated travel experiences on an epic scale. It attracts thousands of camels, horses and cattle, with over 400,000 people visiting over a period of 14 days.
At the banks of Pushkar Lake, a camel race starts off the festival. Originally just a normal cattle fair, the Pushkar fair has become the largest livestock trading event in India. It is also a significant tourist attraction for domestic and international visitors – it's a once-in-a-lifetime opportunity with abundance of colorful cultural events and competitions including tug of war, longest moustache competition, bridal competition and camel races to just name a few. Learn more
---
Diwali: Festival of Lights (Oct-November)
Diwali is India's biggest and most important holiday of the year. It is a five day festival celebrated by millions of Hindus, Sikhs and Jains across the world. The festival welcomes and attracts many travelers from near and far, as it's a great way explore the area while providing an opportunity to be engaged with the locals at such a special time. The Diwali or Deepavali festival gets its name from the rows (avail) of clay lamps (deepa) that Indians light outside their homes to symbolize the inner lights that protects from spiritual darkness. This festival is also celebrated in a multitude of ways but a common significance shared is that this occasion marks the victory of light over darkness, knowledge over ignorance, and good over evil.
Bright lights are everywhere and a feast is prepared to lay the way for the start of new beginnings. Many tiny terracotta oil lamps welcome Lakshmi, goddess of wealth to the new Hindu fiscal year. See millions attend firework displays, prayers and celebratory events spread across the full 5 days and don't forget the delicious treats that are only served this one time in the year! See Tour Details
---
Recommended Journeys
Traveling on a tour to a major festival offers a unique opportunity to dive into a different culture, witness the local perspectives and make new friends along the way. Embark on this magical journey with your own private tour guide and driver.